Having Fun Discovering God!
Because we value your children, we have a safe and secure check-in process. You may want to arrive a few minutes early to get your child registered at the Discovery Island check-in counter, and to give yourself time to meet their teacher and tour the children's ministry if you wish. When you arrive at the check-in counter, one of our volunteers will assist you with registering your child. You will receive a sticker with a barcode that matches your child's name tag. During service, the Discovery Island halls will be closed for your child's safety. In order to pick up your child, you will present your sticker at the check-in counter and your child will be called from their class and brought to you. If at any time your child needs you, the number that is on your sticker will appear on the screens in the sanctuary.

In Discovery Island, our children are discovering essential Biblical truths in the most fun and creative way. Because we have limited time with your children, we keep it simple, but fun and engaging. We utilize Orange Curriculum, which helps us to partner with you as a parent as you guide your child into the knowledge of God.
If your child is an infant up to 2 years old, they will love the Bait Shop. It's a fun, safe, and secure environment where your child will be cared for by nurturing, caring adults sharing God's love to your child through song, play and exploring.
The Candy Shop is full of toddlers who are dancing, singing, and making friends. Their teachers are loving and dedicated to teaching your children that God made them, and just how much He loves them!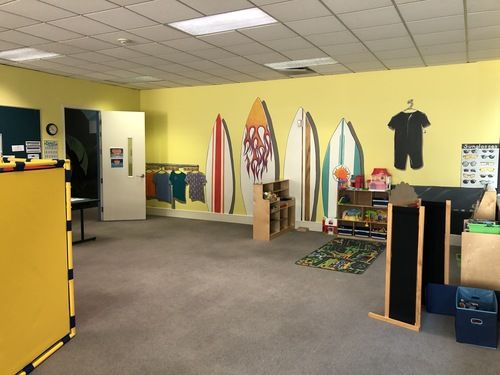 In the Surf Shop, your preschooler will learn more about God while engaging in play, songs, and weekly story videos. Through hands on learning fun, they will continue to discover that because God loves them so much, He wants to be their best friend forever!
Your elementary child will love the Reef Class. In small groups, they will take part in exciting interactive lessons tailored to their grade level. Building on the foundation of God's love for them, they will learn more about God's big plans for them. In large groups, the Bible comes to life as children engage in games, videos, and fun, energetic worship. Your child will learn to Think Big about their God!
Secure and Easy Check-Ins
Check In is simple but secure in Discovery Island. Once you have been registered in our system, you will be ready to use our Self Check In. You will simply type your phone number. A name tag and parent label with the same identification number will print for you. If for any reason you are needed during service, the number will be shown on the screens. Please excuse yourself from service and come to the check in counter. A member of our team will greet you there. You must present the parent label at check out before we can dismiss your child/children. In keeping your children safe, all Discovery Island team members are background checked.
Toddler Area & Nursing Mother's Room
The entire Orange First Look curriculum is constructed to meet preschoolers where they are cognitively, spiritually, physically, emotionally and socially. Through age appropriate activities, preschoolers are building their spiritual foundation so that by the time they graduate to Kindergarten they know these three basic truths.
God Made Me
God Loves Me
Jesus Wants To Be My Friend Forever
In our elementary classes, everything we teach is based on the three truths modeled by Jesus in Luke 2:52:

I need to MAKE the wise choice.
I can TRUST God no matter what.
I should TREAT others the way I want to be treated.
We'd love to hear from you. Fill out the form below to get started.